€360 with coupon for Hubsan Zino 2 LEAS 2.0 GPS 6KM FPV with 4K-60fps UHD Camera 3-axis Gimbal RC Drone Quadcopter RTF 33mins Flight 3800mAh Battery – White EU Plug, 1 Battery without Storage Bag from GEARBEST
€360 with coupon for Hubsan Zino 2 LEAS 2.0 GPS 6KM FPV with 4K-60fps UHD Camera 3-axis Gimbal RC Drone Quadcopter RTF 33mins Flight 3800mAh Battery – White EU Plug, 1 Battery without Storage Bag from GEARBEST
free shipping worldwide
Fly Further and Longer, Take Clearer Images and Videos
Hubsan Zino 2 LEAS 2.0 GPS 6KM FPV with 4K-60fps UHD Camera 3-axis Gimbal RC Drone Quadcopter
free shipping worldwide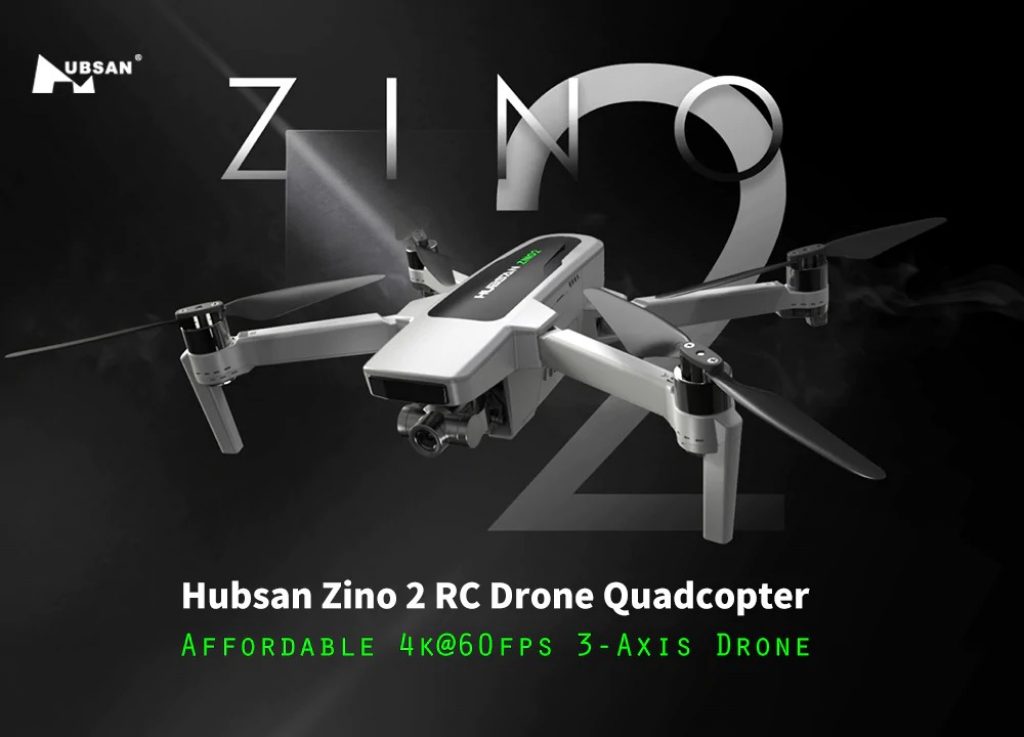 Enjoy Your Flight Right Now!
The remote control distance of HubsanZino 2 has been upgraded from 2.5km to 6km, which allowing you to take photos of further scenery and places. The camera is upgraded from 4k-30fps to 4k-60fps, and the images taken are more clear and exquisite. Larger lens size for better low-light effect. In addition, it also has a remote control with digital display which has a high brightness scree to allow you to track the flight data in real time and you can clearly see it under the strong light outdoors, so as to better enhance the user experience. The flight endurance of HubsanZino 2 can max. up to 33 minutes (in a windless environment), so that you to fully enjoy your flight in one go.
Main Features
1. 6km upgraded remote control distance, the image transmission distance is even more distant.
2. 4K-60fps camera, support RAW format, photo lossless output and time-lapse shooting
3. 1/2.3 inch CMOS larger lens size, better low light effect.
4. Remote controller with digital display, visible in strong lights.
5. The flight endurance up to 33 minutes (windless); Accurate battery power monitoring.
6. Update the latest firmware of aircraft and remote control online through App.
7. Negative film are downloaded directly via a wireless link.
8. The gimbal is detachable.
9. Support using the transmitter to control the drone DIRECTLY.
Quadcopter
Maximum take-off altitude: 5000m
The longest flight time: 33mins (windless)
The longest hover time: 32mins (windless)
Max. endurance mileage: 20km (50km/h windless cruising)
Wind resistance: 5-level
Max. Tiltable angle: 25 degrees (normal mode); 35 degrees (sports mode)
Max. rotational speed : 150 degrees/s
Working temperature: -10 Deg.C – 40 Deg.C
Working frequency: 5.725 – 5.850 GHz
Positioning: GPS + GLONASS
Pan-Tilt
Structural design range: pitch: -135 degrees to 45 degrees; roll: -40degrees to 40 degrees; Shift: -35 degrees to 35 degrees
Controllable rotation range: pitch -90degrees to 0 degrees
Stability system: 3-axis gimbal
Maximum control speed (pitch): 100°/s
Angle jitter: ±0.01°
Camera
Image sensor: 1/2.3 inch CMOS sensor
View angle: 80°
Equivalent Focal Length: 24-48mm
Aperture: f/2.2
ISO range: photography: 100-1600 (automatic);100-3200 (manual) Video:100-3200 (automatic);100-3200 (manual)
Shutter speed: 1/8000 – 1/30
Image pixel: 12M
Compress resolution: 4K:3840*2160 30/60fps / 2.7K:2704*1520 30/60fps / 1080P:1920*1080  30/60/120fps / 720P:1280*720 30/60/120/200fps
Video maximum bitrate: 100Mbps
Support file system: FAT32
Image format: JPEG/DNG (RAW)
Video format: MP4 / MOV (h.264 / mpeg-4 AVC)
Battery
Capacity: 3800 mAh
Nominal voltage: 17.4V (4S)
Charging limit voltage: 17.6V
Battery type: intelligent lithium battery, accurate calculation of battery power, ensure the safety of battery life
Energy: 66.12Wh
Weight: 310 g
Charging environment temperature: -10 Deg.C- 40 Deg.C
Maximum charging power: 52.2W
Image Transmission
Scheme: LEAS 2.0
Distance: 6km
Transmission power (EIRP): <=26dbm
Band: 5.725-5.850 GHz
Charger
Input voltage: 100V-240V
Input current: 2A
Output voltage: 17.1V-18.9V
Output current: 0.0- 3.33A
Rated output power: 54W
Remote Control
Operating frequency: 5.725-5.850 GHz
Maximum effective signal distance: 6km (no interference, no obstacle)
Operating environment temperature: -10 Deg.C- 40 Deg.C
Built-in battery: 3350mAh
Working current/voltage: 3.7V, 1400mA (connecting the android devices); 750mA ⎓ 3.7V (connecting the iOS devices)
Support mobile device size: maximum length: 160mm; thickness: 6.5 – 8.5mm
Interfaces type: Lightning/Micro USB/Type-C
Charging: Micro USB
Specification
General
Brand: Hubsan
Model: Zino 2
Material: ABS/PS,Electronic Components
Type: Quadcopter
Motor Type: Brushless Motor
Functions: Forward/backward,Headless Mode,Height Holding,One Key Automatic Return,One Key Landing,One Key Taking Off,Sideward flight,Slow down,Speed up,Turn left/right,Up/down,WiFi Connection
Satellite System: GLONASS,GPS
Max Flying Height: 500 meter
Max Speed: Movie Mode: 1m/s Normal Mode: 12m/s Sports Mode: 20m/s
Max Ascent Speed: Normal Mode: 3m/s Sports Mode: 5m/s
Max Descent Speed: Normal Mode: 2m/s Sports Mode: 3m/s
Hover Accuracy: Vertical: error < Height * 0.05 (indoor); error < Height * 0.1 (outdoor) Horizontal: ±0.3 meter (indoor); ±2.0 meters (H>5) (outdoor)
Built-in Gyro: Yes
Kit Types: RTF
Level: Professional
Age: Above 14 years old
Connectivity
Remote Control: 5.8GHz Wireless Remote Control,WiFi Remote Control
Channel: 4-Channels
Radio Mode: Mode 2 (Left-hand Throttle)
Detailed Control Distance: About 6000m
Compatible with Additional Gimbal: Yes
FPV Distance: 6KM
Transmitter Power: Built-in rechargeable battery
Model Power: 1 x Lithium battery(included)
Battery
Battery: 17.4V 3800mAh lithium battery
Battery Weight: 310g
Camera
Camera Pixels: 12MP
Video Resolution: 4K:3840*2160 30/60fps ;2.7K:2704*1520 30/60fps ;1080P:1920*1080 30/60/120fps ;720P:1280*720 30/60/120/200fps
Dimensions and Weight
Product weight: 0.9150 kg
Package weight: 3.1250 kg
Product size (L x W x H): 32.60 x 26.00 x 9.49 cm / 12.83 x 10.24 x 3.74 inches
Package size (L x W x H): 27.50 x 26.50 x 12.00 cm / 10.83 x 10.43 x 4.72 inches
Package Contents
Package Contents: 1 x Quadcopter, 1 x Remote Control, 2 x Paddles, 2 x Paddles Screws, 1 x Charger, 1 x Screwdriver, 1 x Remote Control USB Cable, 1 x English Manual