Huaim Announced Amazfit GTR Series Smartphones
On the afternoon of July 16, Huami Technology officially released the Amazfit GTR, a new generation of smartwatch. It comes with new breakthroughs in design, smart functions, and longer battery life.
Amazfit GTR 47mm and 42mm
The Amazfit GTR 47mm body thickness is 10.75mm. It uses a double-crown design and a round dial. This makes the watch look like a high-end Swiss classic watch. There are three variants made of titanium, stainless steel, or aluminum alloy. Three high-grade metal materials are supplemented by color and radiance microcrystalline zirconium ceramic bezel.
This is the first smartwatch from Amazfit series made of titanium. It took 55 days of the production cycle and 15 processes. Titanium has the characteristics of lightweight, high hardness, corrosion resistance, and good biocompatibility. It is widely used in special manufacturing fields such as aerospace and F1 racing. Moreover, it is used to manufacture artificial joints into the human body.
The aluminum alloy version is paired with a rubber-coated hybrid strap that is lightweight, corrosion-resistant and has a high hardness and a high wear-resistant oxide layer for added durability.
The stainless steel version is also equipped with a rubber-coated hybrid strap, which has high in hardness, corrosion-resistant and stable. Also, it has a high-gloss IP chrome film + AF anti-fingerprint film double coating to enhance the metallic color.
The Amazfit GTR 42mm is smaller and more compact. The body is only 9.2mm thick and weighs 25.5g. It has four standard colors of the starry sky, cherry powder, moonlight white, and coral red. It is also equipped with 60 Austrian cubic zirconias.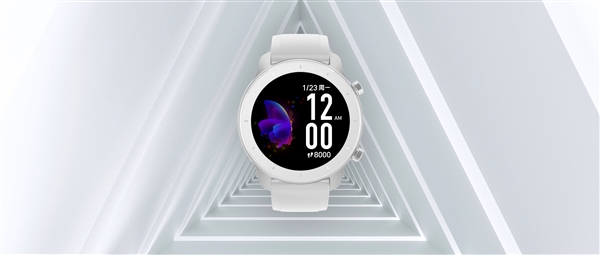 On the dial side, the Amazfit GTR is equipped with a 326PPI retina-grade AMOLED colorful screen. The latter is covered by a Corning Gorilla 3 and anti-fingerprint AF coating.
The dial store will provide more than 100 dials with different styles and effects. The screen will display various information such as time and date, heart rate steps, remaining power, etc.
The functions are divided into three parts: daily, sports and health. Among them, the daily functions can be interconnected via Bluetooth and the new Amazfit app. It supports phone calls, text messages, emails, calendars, social applications, and other information reminders. It can also find smartphones and control music stored in them.
There is a built-in NFC chip, which can simulate door card brush access control and smart door lock. At the same time, Huami Technology cooperated with Alipay. So the Amazfit GTR supports Alipay offline scan code payment.
In terms of sports, the Amazfit GTR has a built-in independent GPS module as well as a Sony 28nm low-power GPS chip. So the watch can record motion track without a smartphone. At the same time, it supports GPS+GLONASS dual star precise positioning.
The Amazfit GTR has 12 professional sports modes and 100 sports courses, such as outdoor running, walking, outdoor riding, indoor running, indoor cycling, open pool swimming, swimming, elliptical, mountaineering, trail running, skiing, and exercising. Based on the collected data, it provides a complete sports report, and have outdoor sports professional tools such as compass and barometer. The watch can also remind sports risk such as high heart rate in real-time.
Our protagonist is 5ATM waterproof and supports automatic recognition of strokes, SWOLF index, stroke rate chart, GPS track, number of turns, and more.
In terms of health, the Amazfit GTR is still equipped with BioTracker PPG, a high-precision bio-tracking optical sensor independently developed by Huami Technology. This tracker can not only monitor 24-hour uninterrupted high-precision heart rate but also provide high-heart rate vibration alarm, record and view fat burning during exercise and so on.
The Amazfit GTR 47mm also supports automatic screening for arrhythmia (including atrial fibrillation) and is expected to be officially launched in October.
On the hardware side, the Amazfit GTR uses advanced low-power chip and new circuit design to optimize the underlying power management for standby, bright screen, and motion modes.
In the standby mode, 15 sensors and peripherals were checked and optimized. As a result, the power consumption was reduced by about 82.6% compared with the same type of equipment. In the daily use scenario, the overall power consumption is reduced by about 48.7%. The GPS function in the sport mode has also been optimized to eventually reduce power consumption by approximately 51.2%.
In the daily use mode with high-frequency operations and full functions, the Amazfit GTR 47mm can be used for up to 24 days.
In the basic watch mode, the Amazfit GTR 47mm can be used for 74 days.
The Amazfit GTR 47mm can provide users with 40 hours of high-intensity use even when the sport mode such as the marathon keeps the GPS working.
The Amazfit GTR 42mm daily use mode lasts for 12 days, the basic watch mode is 34 days, and the GPS continues to work for 22 hours.
Amazfit GTR Iron Man
At the summer new product launch conference on June 11, Huami Technology has announced a cooperation with Marvel. This will bring jointly made products and marketing.
The two sides jointly launched the Amazfit GTR 47mm Iron Man series limited edition. It has been made using the special process to restore the classic color of the Iron Man suit on the watch body. This limited edition comes with a gold stainless steel case, iron man patterned red silicone wristband, black matte ceramic bezel, specially designed Iron Man's dial, and packaging, and equipped with the world's only number of Marvel certification commemorative coins.
Amazfit Straps
The company also released the Amazfit strap, which consists of two gorgeous colors. Nine types of leather are made from Italian imported cowhide. They are 22mm and 20mm wide and support quick release design.
Amazfit GTR Price and Availability
The Amazfit GTR 47mm stainless steel and aluminum alloy versions are priced at 999 yuan. The titanium version is available at 1399 yuan. They are already on sale.
The Amazfit GTR 47mm Iron Man series limited edition's price is 1399 yuan. The listing time has to be determined.
The 42mm variant is priced at 799 yuan, and it will be pre-sold at 16:00 on July 16. The special edition is priced at 999 yuan and will be on sale on August 30.
The Amazfit strap is available in a colorful collection for 59 yuan, and the leather is priced at 129 yuan.