Huawei Mate 20 Provides The Longest Battery Life
A few days ago, PhoneArena released the 'Phones with best battery life this year' ranking. Test results show that the Huawei Mate 20 won the first place with absolute advantage. The iPhone XR performed well, surpassing the iPhone XS Max, becoming the best iPhone of this year.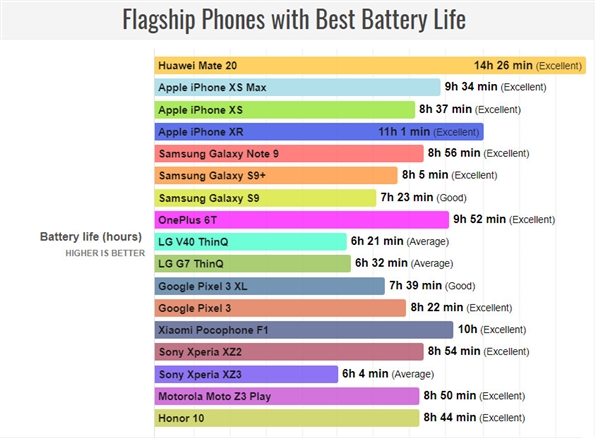 The PA test results show that the Huawei Mate 20 has a combined battery life of 14 hours and 26 minutes, which is more than 50% of its competitors. In addition to the 4000mAh high-capacity battery, the Mate 20 also supports a 22.5W super-fast charging, which has obvious advantages in terms of battery life and charging.
The iPhone XR is close behind, with a total battery life of 11 hours and 1 minute. In addition to the 2942mAh battery as a support, its screen with a lower resolution of 1792×828 has also contributed a lot to the battery life.
The Xiaomi Pocophone F1 (Snapdragon 845 + 4000mAh) and the OnePlus 6T also have provided a good performance. The comprehensive lifetime is 10 hours and 9 hours and 52 minutes respectively.
The iPhone XS Max lasts for 9 hours and 34 minutes and is also in the '9-hour' club. The iPhone XS only provide 8 hours and 37 minutes and is in the same echelon with the Samsung Note 9 (8 hours and 56 minutes).
The Huawei Mate 20 features a 6.53-inch display with a resolution of 2244×1080. It also adopts a Leica triple-camera and flash matrix arrangement. In terms of key features, it is equipped with the Kirin 980 processor, paired with 6+64GB/6+128GB storage combination, a 4000mAh large battery, supporting 4.5V/5A or 5V/4.5A super-fast charge, compatible with 9V/2A fast charge, and has an NFC, Bluetooth 5.0, pre-installed EMUI 9.0 based on Android 9.0.