€453 with coupon for JIMMY H10 Pro Flexible Smart Handheld Cordless Vacuum Cleaner from EU warehouse GEEKBUYING
JIMMY H10 Pro Flexible Smart Handheld Cordless Vacuum Cleaner 245AW 26Kpa Suction Intelligent Dust Sensor 3000mAH Battery 90min Run Time 600ml Dust Cup LCD Screen with 6 LED Headlights – Silver
JIMMY H10 Pro Flexible Smart Handheld Cordless Vacuum Cleaner
shipping worldwide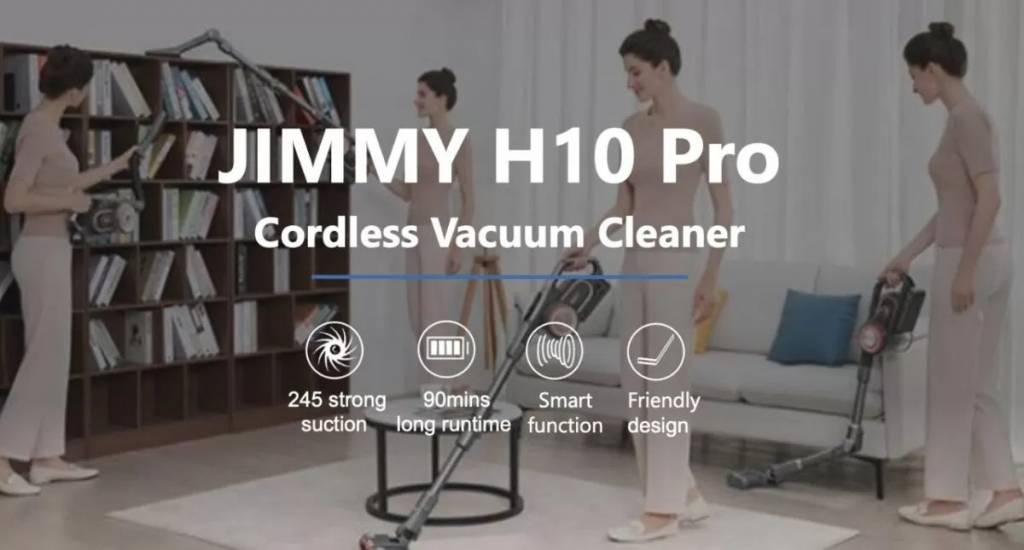 245AW 26Kpa Strong Suction
Driven by JIMMY self-developed 650W high-efficiency brushless digital motor, H10 Pro reaches 245AW suction power.
Up to 90mins Long Working Time
Designed with 8pcs 3000mAh big capacity batteries, the maximum machine working time can reach 90 minutes.
Working time is measured with W/ Electric Floor Head:
Eco mode: 60 Mins
Turbo mode: 22 Mins
Max mode: 12 Mins
Working time is measured with W/O Electric Floor Head:
Eco mode: 90 Mins
Turbo mode: 29 Mins
Max mode: 17 Mins
Excellent Horizontal Filtration System
Efficiently separating dust from air and reducing suction loss is possible with the horizontal filtration system. Capturing large particles and up to 99.9% of fine dust while avoiding secondary air pollution.
Intelligent Dust Sensor
It can clearly display the dust level of 4 different sizes of particles.
LCD Screen Display
The LCD display screen shows the remaining run time, power mode, dust concentration, and error reminder.
Voice Reminding
Equipped with a voice system to offer helpful reminders when you are cleaning.
Auto Adjust Suction Power on Different Floor Types
In Auto mode, JIMMY H10 Pro can adjust the right suction power for more effective cleaning and longer runtime according to different dust levels and floor types.
Flexible Metal Tube, Easy to Clean Under Furniture
The flexible metal tube moves at different angles automatically when cleaning different areas, and is able to clean under furniture with less effort.
6 LED Headlights
Comes with 6 LED headlights, and the cleaning ability of dark areas under beds, tables, and narrow places is greatly improved.
Removable Battery Pack
The battery pack can be charged separately, and the charging stand can provide charge and store simultaneously.
Versatile Tools for Cleanings
Electric mattress head to remove dust, pet hair, and dust mite from bed and sofa.
Soft brush for surface needs more gentle care.
2-in-1 upholstery tool for furniture surface.
2-in-1 crevice tool for narrow places.